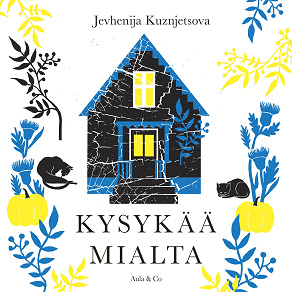 Isbn:
978-95-2364-311-6
Publisher:
Aula & Co
Category:
Novels
Accessible since:
October 2022
Narrator:
Mimosa Willamo
Length: 6 hours 54 minutes
---
Kysykää Mialta
Herkkä ja kaunis kuvaus naisten sukupolvien välisistä siteistä
Siskokset Mia ja Lilia saapuvat isoäitinsä luokse Ukrainan maaseudulle. Kesä suo heille aikaa pohtia valintoja, joita he pian joutuvat tekemään: muuttaako ulkomaille vai ei, valitako tasainen ja luotettava vai villi rakkaussuhde. Isoäiti Tean elämä lähestyy loppuaan ja hänen tytärtään, siskosten äitiä hermostuttaa ottaa paikkansa suvun vanhimpana naisena.
Isoäidin heinää ja versoja puskeva vanha kotitalo elää omaa elämäänsä kuin toiseen aikaan unohtuneena. Mutta siskokset ja heidän mukanaan tuomat ihmiset herättävät sen henkiin. Yhden kesän aikana muuttuu sekä talon että siellä asuvien ihmisten elämä.
Kysykää Mialta seuraa neljän sukupolven naisten elämää yhden kesän aikana ja kuvaa siskosten, äitien ja tytärten suhteita poikkeuksellisen herkästi ja tarkkanäköisesti. Naisten välisissä tiivistunnelmaisissa keskusteluissa on usein yhtä tärkeää se, mitä jätetään sanomatta, kuin se, mitä sanotaan ääneen.
Jevhenija Kuznjetsova on ukrainalainen kirjailija, kääntäjä ja tutkijatohtori. Hänen kiitetty romaaninsa Kysykää Mialta on Euroopan Unionin 2022 kirjallisuuspalkintoehdokas. Lisäksi kirja oli BBC News Ukraine Books of the Year -ehdokas vuonna 2021.
Listen to sample
---