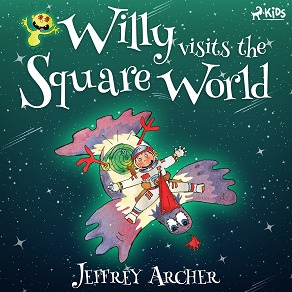 Isbn:
978-87-2807-273-8
Publisher:
Saga Egmont
Category:
Children's books
6-9 years
Accessible since:
February 2022
Narrator:
Jeffrey Archer
Length: 36 minutes
---
Willy Visits the Square World
Oh no, Yo-Yo the Cat has been mysteriously kidnapped!

It's up to Willy and his faithful teddy Randolph to fly through space to Square World where Yo-Yo has been taken. Here they'll get the help of Fuzziness, the wise Big Whoosh, Glowsnake and the Upsidedown Bird.

Willy will need all the help he can get when he takes on Grumpfuzz and his Thieving Bird before they have Yo-Yo for breakfast.

'Willy Visits the Square World' is a brilliantly loving tale, full of funny characters and beautiful worlds from best-selling author Jeffrey Archer. Perfect for some bedtime reading.

Jeffrey Archer is a British novelist, Baron and former politician. During his political career, Archer began to write, his second novel 'Kane and Abel' becoming an international bestseller. The novel became a mini-series some years later starring Sam Neil. He is the author of the 'Clifton Chronicles' as well as a number of short stories and plays, as well as several best-selling children's novels. His best known works include ' First Among Equals', 'Kane and Abel' and 'Only Time Will Tell'.
Listen to sample
---