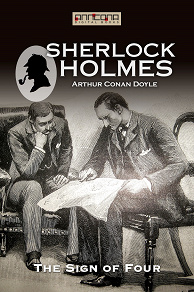 The Sign of Four
The Sign of the Four (1890), also called The Sign of Four, is the second novel featuring Sherlock Holmes written by Sir Arthur Conan Doyle. Doyle wrote four novels and 56 stories starring the fictional detective.

The story is set in 1888. The Sign of the Four has a complex plot involving service in East India Company, India, the Indian Rebellion of 1857, a stolen treasure, and a secret pact among four convicts ("the Four" of the title) and two corrupt prison guards. It presents the detective's drug habit and humanizes him in a way that had not been done in the preceding novel A Study in Scarlet (1887). It also introduces Doctor Watson's future wife, Mary Morstan.

Sir Arthur Conan Doyle (1859-1930) was a Scottish physician and writer, most noted for his stories about the detective Sherlock Holmes, generally considered a milestone in the field of crime fiction, and for the adventures of Professor Challenger. He was a prolific writer whose other works include science fiction stories, plays, romances, poetry, non-fiction and historical novels.

Sherlock Holmes is a London-based "consulting detective" whose abilities border on the fantastic, Holmes is famous for his astute logical reasoning, his ability to adopt almost any disguise, and his use of forensic science skills to solve difficult cases. Holmes, who first appeared in publication in 1887, was featured in four novels and 56 short stories.
Novels: A Study in Scarlet (1887), The Sign of the Four (1890), The Hound of the Baskervilles (1902) and The Valley of Fear (1915).

Short stories: The Adventures of Sherlock Holmes (1892), The Memoirs of Sherlock Holmes (1894), The Return of Sherlock Holmes (1905), His Last Bow (1917) and The Case-Book of Sherlock Holmes (1927).
---